180 Day Guarantee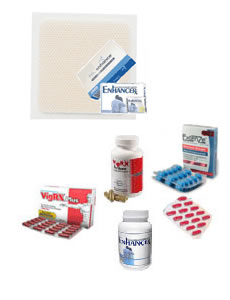 Both ZyGain® Compete and EnhanceRx™ Pills and Extenders and Patches come with a generous 180 day guarantee. Such a long guarantee shows that these product manufactures stand behind their products.
ZyGain® and EnhanceRx™ Gums come with a industry standard 60 day guarantee.
Simply use the product and if you don't experience ANY results, return the product back to us WITHIN 180 DAYS OF YOUR PURCHASE to get a full refund less the shipping and handling* charges!
Experience complete peace of mind and results, not hassles. In the unlikely event that a refund is needed please click here to start the return process.
Make sure you include your full name, your purchase date and your invoice number.
We suggest that you send the package with tracked shipping, since we cannot take responsibility for lost package returns.
There are many guarantees and offers from competing products but we are confident that these products live up to their claims. Order today and be well on your way with the added comfort of knowing that in the unlikely event that you do not see results, we will refund your money.
Please note that Results May Vary – depending on Lifestyle, Diet, and Overall Health. There are many factors that can influence results. A large number of our clients who use ZyGain® Compete and EnhanceRx™ see results within 60 days, however please use the products as directed and if need be contact us for the recommended usage of the products for your Optimal ad Desired Results.
*Refunds are limited to one order per customer. No Exceptions.
There is a restocking fee of $50.00 for all returned Extender Devices.
* Any refund processed after 60 days and before 180 days is refunded by our billing department via PayPal's send money feature only because we use PayPal as our secure 3rd party payment processor and they do not allow credit card refunds after 60 days. There are no exceptions.