Amino Rush 8-Hour Energy Pills
Order Amino Rush™ Pills Today & we will ship your order immediately!!
No Sugar, and no crash
Increase your Productivity
Elevate your Mental Focus
Boost your Concentration
Get Motivated & Get the Job Done!
Ephedra Free & Less Caffeine than canned energy drinks
What makes Amino Rush™ so good?
Do You Want to have more energy, alertness and performance to get through your day? Do you need an energy boost for a workout session or sporting activity?
Amino Rush™'s is a unique, safe and effective formulation of ingredients designed to give you an energy boost lasting up to 8 hours. A proprietary blend of organically cultivated ingredients consisting of vitamins, amino-acids, and natural supplements. Unlike energy drinks Amino Rush is SUGAR FREE. That means there's NO CRASH.
Amino Rush helps everyone maintain a high level of energy, all day. Whether you're competing on or off the field, Amino Rush improves blood flow to all areas of the body resulting in increased nutrient delivery, improved cardiovascular endurance, and increased energy. Its slow release of amino acids, antioxidants, and other nutrients enhances the immune system, and increases mental clarity and reaction time throughout the day.
With an easy to carry pack and extended release formula, Amino Rush will get you through your day with increased energy levels and mental focus.
Order your Amino Rush™ NOW:
Buy in complete confidence with ZERO risk:
100% Discreet plain packaging
Discreet billing
128 Bit data encryption & security
30 day guarantee
Lots of satisfied customers!
Amino Rush™ Energy Pills1 pack – Was $24.95 Sale $19.99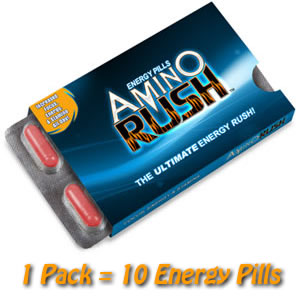 That's 10 energy packed days
Only $2 per day for 8 hours of increased energy, clarity and performance
Enough to try it out
Amino Rush™ Energy Pills3 packs – Was $64.95 Sale $52.50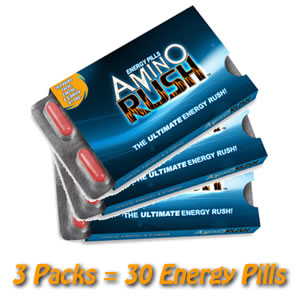 Our most popular Amino Rush™ energy pills package
Only $1.75 for all the benefits of Amino Rush™
One month of energy packed days
Amino Rush™ Energy Pills6 packs – Was $109.99 Sale $89.99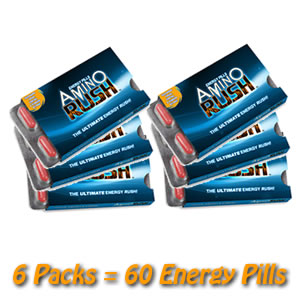 The Best value purchase
Just $1.50 for each energy packed day
That's two full months supply
Perfect package for truck drivers, taxi drivers & shift workers
Is Amino Rush safe to take with my other supplements?
Yes, Amino Rush was formulated to work in conjunction with any additional supplementation that you are currently using such as: Male Enhancement Pills, Gyncomastia Pills, Protein, Creatine, Nitric Oxide, Fat/weight loss, Carb blockers, drinks & shakes, bars and many many more! Amino Rush can also be taken by itself and on those days that you need extra energy, endurance, and focus.
30 Day Guarantee!
You order of Amino Rush™ is backed by a 30 day guarantee! YES, you get a full month to try the product from the time your order is placed because our experience makes us confident that Amino Rush™ is the best energy pill on the market.
NOTE: we ask clients that have hypertension to consult their physicians before using the supplements.

Shipping
All orders are processed within 24 hours and then shipped. Please allow sufficient delivery time We strive to have our orders arrive faster than other companies online who try and save money by sending orders out via a slow delivery system. (All delays from Customs are beyond our control as all Customs departments are regulated differently)
Orders are discreetly shipped with United States Postal Service in plain USPS Priority packaging. There is nothing written on the package as to its contents. However for international orders some Customs Departments require that we write "Herbal Vitamins" on the parcel for clearance.
Shipping Charges: $7.95
We will contact you via email ONLY if your order information is incomplete.
Credit card charges will appear on your statement as "SecureonlineCart" or "SOSCart". All order links on this page will redirect you to our secure server & shopping cart system.